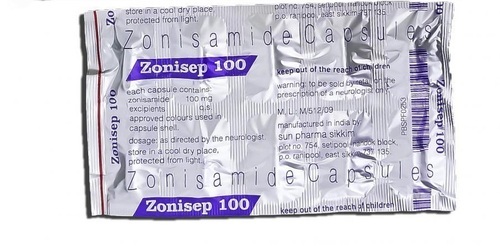 ZONISEP 100MG - ZONISAMIDE
Product Code : 063
Product Description
ZONISEP 100MG - ZONISAMIDE

Zonisamide - Zonisamide is a sulfa drug with anti-convulsant effects.
Zonisamide is used together with other anti-convulsant medications to treat partial seizures in adults with epilepsy.
Zonisamide may also be used for other purposes not listed in this medication guide.
Pharmacology: Unknown; however, may produce anticonvulsant effects through action at sodium and calcium channels.
Indication: Adjunctive therapy in the treatment of partial seizures in adult epileptic patients.
Zonisamide is an antiseizure drug chemically classified as a sulfonamide and unrelated to other antiseizure agents. The precise mechanism by which Zonisamide exerts its antiseizure effect is unknown, although it is believed that the drug blocks sodium and calcium channels, which leads to the suppression of neuronal hypersynchronization (i.e. convulsions). Sonisamide has also been found to potentiate dopaminergic and serotonergic neurotransmission but does not appear to potentiate syanptic activity by GABA (gamma amino butyric acid).
Indications: Partial seizure s.
Zonisamide is used together with other medicines to treat epilepsy (also known as fits or seizures).
Oral Partial seizures
Adult: Initially, 50 mg daily in 2 divided doses, may increase to 100 mg daily after 1 wk. Thereafter, may further increase dose at wkly intervals in steps of up to 100 mg. Usual dose: 300-500 mg daily, although some patients may respond to lower doses. Renal impairment: Dose reduction and slower titration may be needed. Hepatic impairment: Mild to moderate: Slower titration may be needed. Severe: Not recommended.