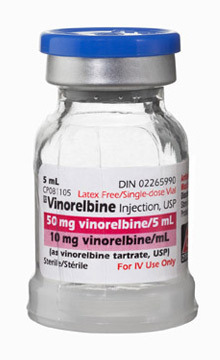 Product Description
Vinorelbine Injection USP :-
In order to provide our clients quality goods and optimum satisfaction, we procure these Vinorelbine Injection from vendors who never compromise with quality. Further, we provide timely delivery of this drug. The primary use of the drug is to treat breast cancer. In addition, it is also used for the purpose of fighting non small cell lung cancer. Its effectiveness is because of the perfect composition this product is made up of.

Vinorelbine is cancer medication that interferes with the growth of cancer cells and slows their spread in the body.
Vinorelbine is used to treat non-small cell lung cancer.
Vinorelbine is sometimes used in combination with other cancer medications

Generic name is Navelbine.

Features:


Treats breast cancer
Treats non small cell lung cancer
Highly effective
Perfect composition

Specifications: