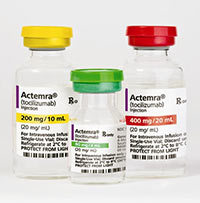 Tocilizumab Injection
Product Code : 144
Product Description
Tocilizumab Injection :-

Tocilizumab is an agent in the class of drugs known as biologic disease modifiers. It is used to treat adult onset rheumatoid (RA) arthritis and the systemic form of juvenile idiopathic arthritis (JIA). Biologic disease modifiers are genetically engineered drugs that are used to modify imbalances of the immune system in autoimmune disease. Some of these agents block, or modify, the activity of selected cells in the immune system, while others including tocilizumab work by blocking certain messenger proteins, known as cytokines, that send signals between those cells. In other words, some medicines directly affect the cells, and others block the communication between cells.

Tocilizumab has been approved by the Food and Drug Administration (FDA) for use in patients with rheumatoid arthritis who have active disease despite having been treated with one or more todisease modifying anti-rheumatic drugs also called DMARDs, including other biologic response modifiers such as TNF inhibitors or methotrexate. It is also approved for use in children over 2 years of age with the systemic form of JIA. Studies of the use of tocilizumab in children with systemic JIA showed improvement in fevers, a feeling of well-being, and in blood tests that measure inflammation. The drug is undergoing study in children with other forms of JIA.

Tocilizumab works by blocking a cytokine known as interleukin 6, or IL-6, which is believed to be one of the factors that cause inflammation in rheumatoid arthritis. Tocilizumab is an antibody that blocks the spot where IL-6 attaches to the surface of cells. When IL-6 is unable to attach to these cells, it is unable to activate them or turn them on. As a result, the cells are unable to drive inflammation in rheumatoid arthritis. The goal of treatment with tocilizumab is to reduce the symptoms of rheumatoid arthritis, including pain and swelling. Studies have also shown that it slows or prevents the joint damage associated with the disease.

Tocilizumab is given as an infusion into a vein, either in the hospital or in a doctor's office. The infusions, which take about an hour, are repeated every 4 weeks. Although some patients may improve during the weeks after the first infusion, it may take as long as 6 -12 weeks to see results. For children with systemic JIA, dosing can be as frequent as every two weeks. The tocilizumab dose is adjusted according to the patient's weight. The starting dose in adults is 4 milligrams of tocilizumab per kilogram of body weight, but the dose can be increased to 8 milligrams per kilogram if needed to control arthritis. In children, the dose is 8 milligrams per kilogram in those weighing over 30 kilograms (66 pounds) and 12 milligrams per kilogram in those under 30 kilograms. Tocilizumab may be given by itself or in combination with methotrexate or other non-biologic drugs used to treat rheumatoid arthritis. Tocilizumab should not be given in combination with another biologic agent.