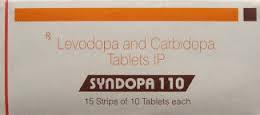 SYNDOPA 110
Product Code : 081
Product Description
SYNDOPA 110


Indication: For the treatment of idiopathic Parkinson's disease (Paralysis Agitans), postencephalitic parkinsonism, symptomatic parkinsonism which may follow injury to the nervous system by carbon monoxide intoxication, and manganese intoxication.

Levodopa is converted to a chemical called dopamine (DOE pa meen) in the brain. Symptoms of Parkinson's disease may be caused by low levels dopamine in the brain. Levodopa is turned into dopamine in the body.

Syndopa helps prevent the breakdown of levodopa before it can reach the brain and take effect.

The combination of Syndopa and levodopa is used to treat Parkinson symptoms such as muscle stiffness, tremors, spasms, and poor muscle control.

Syndopa and levodopa is also used to treat Parkinson symptoms caused by carbon monoxide poisoning or manganese intoxication.