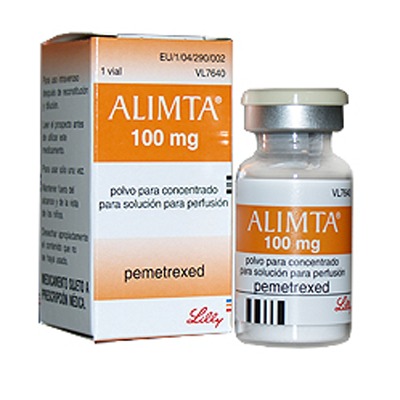 Pemetrexed
Product Code : 76
Product Description
Pemetrexed :-
Alimta trade name for Pemetrexed is used to treat certain types of cancer (e.g., lung cancer, mesothelioma)
Detailed Description:
It is a chemotherapy drug that is used alone or in combination with other medications to slow or stop cancer cell growth. Alimta is a cancer medication that interferes with the growth of cancer cells and slows their growth and spread in the body. Alimta is used to treat mesothelioma, a form of lung cancer associated with exposure to asbestos. Alimta is also used to treat non-small cell lung cancer that has already been treated with other cancer medications.
Alimta may also be used for other purposes not listed in this medication guide.
Important information about Alimta Before receiving Alimta, tell your doctor if you are allergic to any drugs, or if you have kidney or liver disease, bone marrow suppression, a weak immune system, or excess fluid in the space around your lung, liver, or other internal organs.
Throughout your treatment with Alimta, you will need to take folic acid and vitamin B-12 to protect your stomach, blood cells, and bone marrow from the side effects of Alimta. You will need to start taking these supplements a week before receiving your first Alimta infusion, and will keep taking them for 3 weeks after your treatment ends.
Vitamin B-12 and folic acid are available over the counter. Be sure to take only the forms and strengths of these supplements that your doctor has recommended.
Alimta is usually given every 3 weeks. Your doctor will determine how many treatment cycles you should receive.
Alimta can lower the blood cells that help your body fight infections. This can make it easier for you to bleed from an injury or get sick from being around others who are ill. To be sure your blood cells do not get too low, your blood will need to be tested on a regular basis. Your cancer treatments may be delayed based on the results of these tests. Do not miss any scheduled visits to your doctor.
Avoid being near people who have colds, the flu, or other contagious illnesses. Contact your doctor at once if you develop signs of infection.
Before you receive Alimta, tell your doctor if you are taking an NSAID (non-steroidal anti-inflammatory drug) such as ibuprofen (Motrin, Advil), naproxen (Aleve), indomethacin (Indocin), ketoprofen (Orudis), and others.