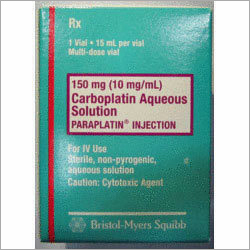 Paraplatin Injection
Product Code : 26
Product Description
Paraplatin Injection

Paraplatin (carboplatin) is a cancer medicament, which obstructs the maturation of cancer cells in the body, drags their growth and prevents their outspread in the body. It is utilized together with other cancer drugs to medicate ovarian malignant tumor. Paraplatin may also be utilized for purposes not cited here.

Side effects

If any of the following side effects fall out while taking carboplatin,contact the doctor without time lag:

More common:

Pain at spot of injection

Less common:

Tarry and black stools
Blood in stools or urine
Cough, gruffness, attended by fever or chills
Fever or chills
Lower back and side pain
Numbness or prickling in fingers or toes
Painful urination, attended by chills and fever

Minor Side Effects

Carboplatin is the main ingredient of this medicate that can cause in some ordinary side effects and may not need any medical aid. The common side effects are listed below:

More common:

Nausea and emesis

Unusual weariness or weakness

Less common:

Constipation or diarrhea

Loss of appetite

This medication may result in a temporary hair loss in some people. After treatment with the medicate has ended, natural hair growth should return.


Interaction

Overall 286 medicates are known to interact with Paraplatin (carboplatin).

Some of those common medications checked in accumulation with Paraplatin (carboplatin) are listed below:

Adriamycin (doxorubicin)
Biotin
Ciprofloxacin
Cytoxan (cyclophosphamide)
Cytoxan Lyophilized (cyclophosphamide)
Folic acid
Etopophos (etoposide)
Fludara (fludarabine)
Dexamethasone
Hycamtin (topotecan)
Leukeran (chlorambucil)
Precaution

You should not take Paraplatin if you have bone marrow suppression or intense bleeding.
It can harm the kidneys with an increased effect when you also take certain other medications that are harmful to the kidneys.
The medication should not be taken if you are hypersensitized to carboplatin or kindred medications such as oxaliplatin or cisplatin.
To make sure Paraplatin is harmless for you, contact the doctor in following conditions:
Liver disease
Kidney disease
A weak immune system
If you have received carboplatin in the past.
If you are pregnant.