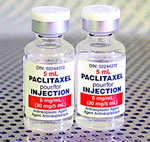 Paclitaxel For Injection
Product Code : 105
Product Description
Paclitaxel For Injection :-

Paclitaxel Injection is an anti-cancer chemotherapy drug classified as a plant alkaloid, a taxane and an antimicrotubule agent. Paclitaxel is used for the treatment of breast, ovarian, prostate, melanoma, esophageal, as well as other types of solid tumor cancers. It has also been used in Kaposi's sarcoma.


Paclitaxel is a cancer medication that interferes with the growth and spread of cancer cells in the body.
Paclitaxel is used to treat breast cancer, ovarian cancer, and lung cancer. It is also used to treat AIDS-related Kaposi's sarcoma.

Side Effects:


Slow heart rate
Pale skin, easy bruising or bleeding, unusual weakness
Fever, chills, body aches, flu symptoms
White patches or sores inside your mouth or on your lips

Features:


Anti-tumor drug
Majorly used for treating advanced tissue sarcoma
Longer shelf life

Specifications:


Available in: 300 mg / 5 ml