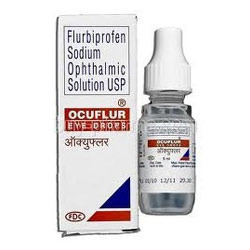 OCUFLUR EYE DROP - FLURBIPROFEN
Product Code : 069
Product Description
Ocuflur - Indications: intra-operative miosis inhibition, postoperative eye inflammation and pain, prevention of cystoid macular oedema following cataract surgery


Indications: prevention of miosis in ophthalmic surgery


OralTreatment of rheumatoid arthritis and osteoarthritis. OphthalmicInhibition of intraoperative miosis.


Ocuflur is a member of the phenylalkanoic acid derivative family of non-steroidal anti-inflammatory drugs (NSAIDs) used to treat the inflammation and pain of arthritis. It is known by the following tradenames: Ansaid, marketed by Pfizer, and Froben, by Abbott. Ocuflur is also used as an active ingredient in some kinds of throat lozenges.


The single enantiomer of racemate flurbiprofen, tarenflurbil (R-flurbiprofen), is currently in clinical trials for the treatment of metastatic prostate cancer.


Indications: Arthritis.


Active ingredient of throat lozenges and eye drops.

Active ingredients: Flurbiprofen