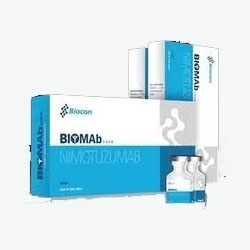 Nimotuzumab
Product Code : 104
Product Description
Nimotuzumab :-

Nimotuzumab - Indications: Monoclonal antibody used to treat squamous cell carcinoma of the head and neck, refractory high grade astrocytoma of brain, nasopharyngeal cancer.

Features:
Accurate composition
Highly effective against cancer
Longer shelf life


Nimotuzumab is a humanized therapeutic monoclonal antibody against epidermal growth factor receptor (EGFR). Clinical trials are ongoing globally to evaluate nimotuzumab in different indications. Nimotuzumab has been granted approval for use in squamous cell carcinoma of head and neck (SCCHN), glioma and nasopharyngeal cancer in different countries. This review focuses on the unique functional characteristics of nimotuzumab. Also, it discusses the safety and efficacy data obtained from the Phase IIb clinical trial conducted in India in SCCHN. Post marketing surveillance data from Cuba for the use of nimotuzumab in pediatric and adult glioma is also discussed. Overall, nimotuzumab has immense therapeutic potential in cancers of epithelial origin.