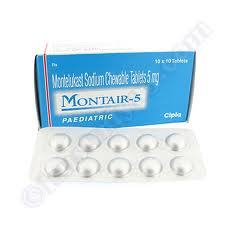 MONTAIR-5MG - MONTELUKAST SODIUM
Product Code : 048
Product Description
MONTAIR-5MG - MONTELUKAST SODIUM

Brand Name:

Montair-5
Generic Name:

Montelukast Sodium
Form:

Tablets
Manufacturer:

Cipla
What is Montair-5?
Montair with the active ingredient montelukast sodium works by reducing inflammation in the airways to allow for easier breathing. The tablet needs to be used regularly to prevent shortness of breath, wheezing and coughing caused by asthma and decrease the number of acute asthma attacks. Bronchospasms caused by exercising can also be prevented by using the medication. Some people may also use it to treat and relieve allergic rhinitis and seasonal allergies such as hay fever.
How is Montair-5 used?
Montair should be taken orally as directed by a doctor, usually once per day. The tablets can be taken with or without food but should be taken with plenty of water to prevent an upset stomach. Contact a doctor for the correct dosage as it will depend on the patients reaction to the medication and the condition being treated. The 5mg tablets should be taken by children aged 6 to 15. The medication should be swallowed whole and not chewed, crushed or split to prevent too much of the medication from being released at one time.
Adverse effects
Patients using Montair may encounter unwanted side effects such as:
Stomach pain
Fatigue
Headaches
Nausea
Muscle weakness
Diarrhea
Dizziness
Contact a doctor immediately should side effects persist or encounter more severe side effects such as:
Worsening asthma symptoms
Insomnia
Tremors
Flu like symptoms
Mental or mood changes
Numbness in arms or legs
Difficulty breathing or swallowing
Warnings
The tablet is a preventative medication and cannot be used to treat acute asthma attacks or cure symptoms of asthma.
Immediately proceed to your nearest emergency department if you suffer an allergic reaction. Symptoms usually associated with such a reaction include difficulty breathing or swallowing, chest tightness, swelling, skin rashes, and hives.
Montair-5 is not always suitable for all patients. Always consult your health care provider prior to using this medication if you are pregnant, breastfeeding, trying to conceive, using any other medication (prescription or non-prescription), using any herbal products or supplements, or if you have any allergies or other health problems.
The correct dosage and prescription commonly depend on the patient and the condition being treated. Do not adjust your dosage without the approval of your health care provider. This product is only for use as prescribed and instructed.