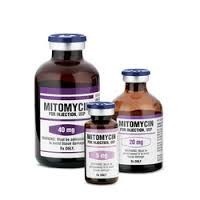 Mitomycin C10mg
Product Code : 096
Product Description
Mitomycin

Mitomycin- Pharmacology: An antibacterial drug, which inhibits the synthesis of DNA.

Indication: Alleviating treatment of disseminated glandular cancer of stomach and pancreas.

Unlabeled Usages

Colorectal, breast cancer, bladder, squamous cell cancer of head and neck, lungs, cervix; conjunctiva.

Mitomycin is an anticancer medication that interferes with the maturation of cancer cells and slows down their growth and outspread in the body. It is utilized to treat the cancer of the pancreas and stomach. It can also be employed for the purposes, which are not mentioned.

Indication: For the treatment of cancerous neoplasm of oral cavity, lip, digestive organs, peritoneum, female breast, pharynx and urinary bladder.

Intravenous Solid tumors of the breast, cervix, eye, bladder, liver, lung, stomach and endocrine gland.