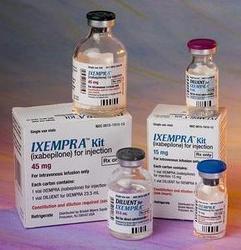 Ixabepilone
Product Code : 72
Product Description
Ixabepilone :-

Ixempra is an anti-cancer (antineoplastic or cytotoxic) chemotherapy drug. Ixempra is classified as an antimicrotubule agent or an epothilone Banalog. For more detail, see How Ixempra Works below.
What Ixempra Is Used For :
Ixempra is used in the treatment of metastatic or locally-advanced breast cancer.
Note: If a drug has been approved for one use, physicians may elect to use this same drug for other problems if they believe it may be helpful.
How Ixempra Is Given:
Ixempra is given as an infusion into the vein (intravenous, IV).
The amount of Ixempra that you will receive depends on many factors, including your height and weight, your general health or other health problems, and the type of cancer or condition you have. Your doctor will determine your exact Ixempra dosage and schedule.
Side-Effects:
The following side effects are common (occurring in greater than 30%) for patients taking Ixempra:
Peripheral neuropathy: Although uncommon a serious side effect of decreased sensation and paresthesia (numbness and tingling of the hands and feet) may be noted. Sensory loss, numbness and tingling, and difficulty in walking may last for at least as long as therapy is continued. These side effects may become progressively more severe with continued treatment, and your doctor may decide to decrease your dose.
Weakness
Muscle and joint pains
Hair loss
Nausea & Vomiting
Low white blood cell count
These are less common side effects (occurring in about 10-29%) of patients receiving Ixempra:
Mouth sores
Diarrhea
Muscle and bone pain
Poor appetite
Constipation
Abdominal pain
Headache