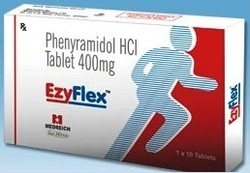 Product Description
EzyFlex :-Ezyflex
is a mixture of three primal ingredients to keep the joints pain free, healthy and cut down the inflammation. It naturally refills the key nutrients, which are required for every day joint maintenance. It has unique duple activity of skeletal muscle relaxing with analgesia. The medicate has powerful analgesic effect that rapidly restores mobility. It provides rapid, protracted relief as well as quicker alleviation from muscle stiffness and cramps. Ezyflex is non-sedating and non-narcotic, hence can be harmlessly recommended for the long-term handling of chronic conditions as it has zero effect on normal neuromuscular function.

Benefits of Ezyflex:
A balanced and harmonious aggregation of nutritional factors for assistance of healthy muscle tissues.
Presents a ratio-balanced accumulation of vitamins B6 and B12 to nutritionally aid soft tissue.
Side effects in baby and children:
FDA assessment is still incomplete. Nevertheless common Ezyflex side effects are:
Mental activity changes
Metabolic occurrences
Growth rate alteration
Direct effects depends upon manner of healing action on children.