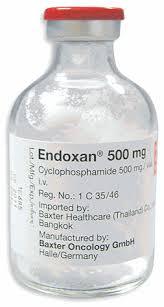 ENDOXAN - N 1G
Product Code : 038
Product Description
ENDOXAN - N 1G

Endoxan also known as Cyclophosphamide, is an alkylating agent used to treat certain cancers. It may also be used to treat other conditions as determined by your doctor.
Brand Name:
Endoxan, Endoxan Asta, Endoxan N
Generic Name:
Cyclophosphamide
Contents:
Cyclophosphamide 50mg Tablet
Form:
Tablets: 50 mg, Injection: 200mg, 500mg, 1g (1000mg)
Manufacturer
Zydus Cadila ( Baxter)
Also Known As:
Cytoxan, Neosar, Procytox, Revimmune, Endoxan
How to Use This Medicine: Follow the directions for using this medicine provided by your doctor. TAKE THIS MEDICINE on an empty stomach. IF THIS MEDICINE UPSETS YOUR STOMACH, it may be taken with food. IF NAUSEA, VOMITING, OR LOSS OF APPETITE OCCURS, ask your doctor, nurse, or pharmacist for ways to lessen these effects. STORE THIS MEDICINE at room temperature below 77 degrees F (25 degrees C) in a tightly-closed container, away from heat, moisture, and light. IF YOU MISS A DOSE OF THIS MEDICINE and you take 1 dose daily, take the missed dose if you remember the same day. If you do not remember until the next day, skip the missed dose and go back to your regular dosing schedule. Do not take 2 doses at once.
Additional Information: DO NOT SHARE THIS MEDICINE with others for whom it was not prescribed. DO NOT USE THIS MEDICINE for other health conditions. KEEP THIS MEDICINE out of the reach of children.

Side effects that may go away during treatment include ;
nausea, vomiting, loss of appetite, diarrhea, absence of menstrual periods, unusual tiredness or weakness, or hair loss. If they continue or are bothersome, check with your doctor. CHECK WITH YOUR DOCTOR AS SOON AS POSSIBLE if you experience unusual bruising or bleeding; painful urination; lower back or abdominal pain; persistent cough, shortness of breath, or difficulty breathing; fever, chills, or sore throat; or blood in urine. If you notice other effects not listed above, contact your doctor, nurse, or pharmacist.
Overdose: If overdose is suspected, contact your local poison control center or emergency room immediately. Symptoms of overdose may include red or bloody urine, back or stomach pain, weakness, and fast heartbeat.