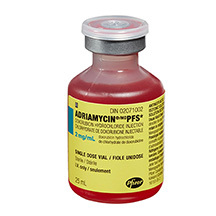 Doxorubicine HCL Injection
Product Code : 115
Product Description
Doxorubicine HCL Injection :-
Doxorubicin is used in combination with other medications to treat certain types of bladder, breast, lung, stomach, and ovarian cancer; Hodgkin's lymphoma (Hodgkin's disease) and non-Hodgkin's lymphoma (cancer that begins in the cells of the immune system); and certain types of leukemia (cancer of the white blood cells), including acute lymphoblastic leukemia (ALL) and acute myeloid leukemia (AML, ANLL). Doxorubicin is also used alone and in combination with other medications to treat certain types of thyroid cancer and certain types of soft tissue or bone sarcomas (cancer that forms in muscles and bones). It is also used to treat neuroblastoma (a cancer that begins in nerve cells and occurs mainly in children) and Wilms' tumor (a type of kidney cancer that occurs in children). Doxorubicin is in a class of medications called anthracyclines. It works by slowing or stopping the growth of cancer cells in your body.
Doxorubicin comes as a solution (liquid) or as a powder to be mixed with liquid to be injected intravenously (into a vein) by a doctor or nurse in a medical facility. It is usually given once every 21-28 days. The length of treatment depends on the types of drugs you are taking, how well your body responds to them, and the type of cancer you have.
Doxorubicin should be administered only into a vein. However, it may leak into surrounding tissue causing severe irritation or damage. Your doctor or nurse will monitor your administration site for this reaction. If you experience any of the following symptoms, call your doctor immediately: pain, itching, redness, swelling, blisters, or sores in the place where the medication was injected.
Doxorubicin may cause serious or life-threatening heart problems at any time during your treatment or months to years after your treatment has ended. Your doctor will order tests before and during your treatment to see if your heart is working well enough for you to safely receive doxorubicin. These tests may include an electrocardiogram (ECG; test that records the electrical activity of the heart) and an echocardiogram (test that uses sound waves to measure your heart's ability to pump blood). Your doctor may tell you that you should not receive this medication if you have an abnormal heart rate or if the tests show your heart's ability to pump blood has decreased. Tell your doctor if you have or have ever had any type of heart disease, a heart attack, or radiation (x-ray) therapy to the chest area. Tell your doctor and pharmacist if you are taking or have ever received certain cancer chemotherapy medications such as cyclophosphamide (Cytoxan), daunorubicin (Cerubidine, DaunoXome), epirubicin (Ellence), idarubicin (Idamycin), mitoxantrone (Novantrone), paclitaxel (Onxol), trastuzumab , or verapamil (Calan, Isoptin). If you experience any of the following symptoms, call your doctor immediately: shortness of breath; difficulty breathing; swelling of the hands, feet, ankles or lower legs; or fast, irregular, or pounding heartbeat.
Doxorubicin can cause a severe decrease in the number of blood cells in your bone marrow.