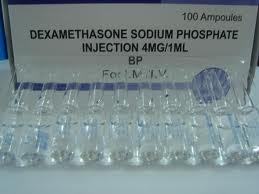 DEXAMETHASONE SOD INJ
Product Code : 0034
Product Description
Dexamethasone Sod - Indications: Atopic eczema.


Allergic contact dermatitis.


Lichen simplex.


Primary irritant dermatitis.


Seborrheic dermatitis.


Psoriasis of face, flexures.


Varicose eczema.


Cystic acne.


Alopecia areata.


Discoid LE.


Hypertrophied scars, keloids.


Lichen planus.


Nail disorders.


Psoriasis of palm, sole, elbow, knee.


A combination of steroid with proper antibiotic cover may also be


Used for: Impetigo, furunculosis, secondary infected dermatoses, napkin rash, otitis externa, intertriginous eruptions.

Active ingredients: Dexamethasone Sodium Phosphate