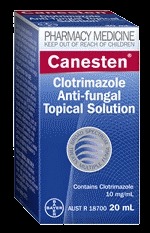 CANESTEN - CLOTRIMAZOLE TOPICAL
Product Code : 072
Product Description
CANESTEN - CLOTRIMAZOLE TOPICAL

Canesten - Canesten is an antifungal agent of imidazole derivatives group for topical use. This medication has an effect at the expense of the synthesis of ergosterol, which is part of the cell membrane of fungi. Canesten has a broad spectrum of action.

Canesten is active against dermatophytes, molds, fungi of the genus Candida, Malassezia furfur.

This drug is also active against Corynebacterium minutissimum, Streptococcus spp., Staphylococcus spp., Trichomonas vaginalis.
Indications: fungal skin infections

Indications: fungal and bacterial infections, trichomoniasis

For the treatment of skin infections due to dermatophytes (e.g. trycophyton species), yeasts (e.g. candida species), moulds and other fungi. These include ringworm (tinea) infections, athlete's foot, paronychia, pityriasis versicolor, erythrasma and intertrigo, as well as fungal nappy rash, candidal vulvitis and candidal balanitis.

for the topical treatment of candidiasis due to Candida albicans and tinea versicolor due to Malassezia furfur. Clotrimazole is also available as a nonprescription item which is indicated for the topical treatment of the following dermal infections: tinea pedis, tinea cruris, and tinea corporis due to Trichophyton rubrum, Trichophyton mentagrophytes, Epidermophyton floccosum, and Microsporum canis.

Gynaecology : Vaginal infections caused by yeasts eg, Candida sp, Torulopsis glabrata, Rhodotorula sp and Trichomonas vaginalis eg, infectious discharge, colpitis due to yeasts and/or trichomonads, Candida vulvitis, Candida balanitis of the partner. Superinfection caused by Canesten-sensitive bacteria.

Indications: Vulvo-vaginal candidiasis, trichomonas vaginitis, non specific vaginitis, mixed vaginal infections.

Infective leucorrhoeas.

Gram positive and gram negative bacteria.

Fungal infections of skin, hair and vagina.

Dusting powder for prevention of athelets feet and ringworm of skin folds.

Cutaneous candidiasis.

Otomycosis, fungal infections of external ear.

Active ingredients: Clotrimazole