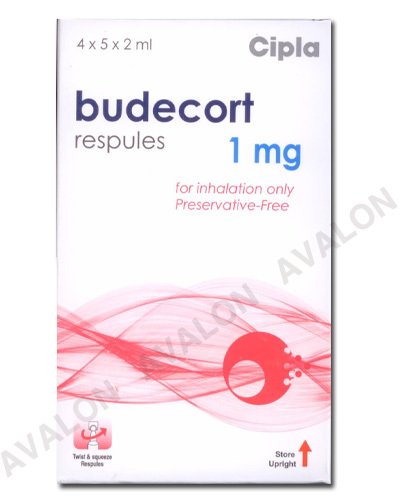 Budecort 1mg Respules
Product Code : 067
Product Description
BUDECORT 1MG RESPULES

Budecort - Budecort is a glucocorticoid steroid for the treatment of asthma, non-infectious rhinitis (including hay fever and other allergies), and for treatment and prevention of nasal polyposis. Additionally, it is used for Crohn's disease (inflammatory bowel disease).

It is marketed by AstraZeneca as a nasal inhalant under the brand name Rhinocort (in Denmark, as Rhinosol), as an oral inhalant under the brand name Pulmicort, and as either an enema or a modified release oral capsule under the brand name Entocort. It is also sold in combination with formoterol (Oxis) in a single inhaler, under the brand name Symbicort. In Brazil it's marketed by Eurofarma under the brand name Noex.

Patients with bronchial asthma who require maintenance treatment with glucocorticosteroids for control of underlying airway inflammation.

Indications: obstructive airways disease

Indications: nasal polyps, rhinitis

Indications: asthma

Indications: allergic rhinitis, nasal polyps

Budecort is indicated forLong-term maintenance treatment of asthma; maintenance treatment of airflow obstruction in patients with COPD, including chronic bronchitis and emphysema.the management of nasal symptoms of seasonal or perennial allergic rhinitis in adults and children six years of age and older.