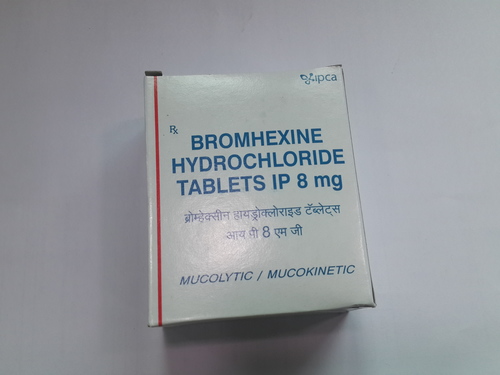 Bromhexine Hydrochloride Tablets IP 8 mg
Product Code : 584
Product Description
Bromhexine hydrochloride uses :
Bromhexine is a cough medicine marketed by Healthypharm. The active ingredient bromhexine is an expectorant which works by loosening mucus in the chest, making it easier to cough up secretions. Bromhexine cough syrup should not be used for tickly (dry) coughs.

Uses :

Bromhexine is used in the treatment of cough.
How it works : Bromhexine thins and loosens mucus, making it easier to cough out. .
Common side effects : Irritation of ear, Allergic skin rash, Dizziness, Headache.

EXPERT ADVICE
Tell your doctor if you have ever had or are suffering from stomach ulcer. You may not be prescribed Bromhexine as it can aggravate your problem.Inform your doctor if you have any liver/kidney disease or asthma.Tell your doctor if you are pregnant, planning to become pregnant or are breastfeeding.Do not take if allergic to Bromhexine or any of its ingredients.