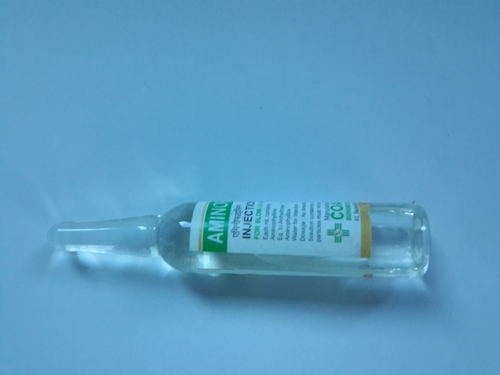 Aminophylline Injection
Product Code : 604
Product Description

Aminophylin Injection :

Chronic obstructive pulmonary disorder (COPD), Asthma.

Uses of Aminophylin Injection : Aminophylin Injection is used in the treatment of chronic obstructive pulmonary disorder and asthma.

Side effects of Aminophylin Injection : Nausea, Vomiting, Headache, Abdominal upset, Restlessness.
How to use Aminophylin Injection : Your doctor or nurse will give you this medicine. Kindly do not self administer.

How Aminophylin Injection works : Aminophylin injection works by relaxing the muscles in the walls of the airways. This opens the airways and makes breathing easier.

In Depth Information on Aminophylin Injection : Expert advice for Aminophylin Injection

Do not start and continue aminophylline and consult your doctor:if you are above 65 years; have a heart, liver or kidney disease.
Do not take aminophylline if you are already taking medication for asthma or COPD or cough.
Avoid smoking / alcohol while taking aminophylline.
Do not take aminophylline if you have glaucoma (raised pressure in eye); thyroid disease; seizure or any mental disorders.
Do not take aminophylline if you are suffering from a virus infection, such as flu or have recently had a flu injection.
Avoid using aminophylline if if you are pregnant and planning to become pregnant or taking pills to avoid pregnancy.

Warnings
Special precautions for Aminophylin Injection

Alcohol : Aminophylin Injection may cause excessive drowsiness and calmness with alcohol.

Pregnancy : Aminophylin Injection may be unsafe to use during pregnancy.
Animal studies have shown adverse effects on the foetus, however, there are limited human studies. The benefits from use in pregnant women may be acceptable despite the risk. Please consult your doctor.

Lactation :Aminophylin Injection is safe to use during lactation. Human studies have shown that either the drug does not pass into the breastmilk in significant amount or is not expected to cause toxicity to the baby.

Driving : Aminophylin Injection does not usually affect your ability to drive.

Kidney : There is no data available. Please consult doctor before consuming the drug.