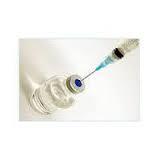 Adrenaline Bitartrate Injection
Product Code : 019
Product Description

Adrenaline bitartrate
is a direct-acting adrenergic bronchodilator, which is recommended for the treatment of open-angle glaucoma, acute asthma, anaphylactic shock as well as a precocious cardiac life support.

Pharmacodynamics
The procedure and action of Adrenaline bitartrate excites sympathomimetic receptors (alpha and beta), which effect in relaxation of smooth and cardiac muscular tissues with expansion of skeletal muscles. The drug reduces the liquid humor secretion and excites outflow. The medicate distends pupils by the muscular contraction of dilator muscles.
Precautions
Adrenaline bitartrate is contraindicated in patients who are hypersensitive to sulphite and its compounds, angle-closure glaucoma patients as well as in CVD (cardiovascular disease) patients. Cautiousness should also be exercised the usages in BPH, hypertensive patients and diabetic patients.
It should not be prescribed within 14 days of MAOI (Monoamine Oxidase Inhibitors) therapy.
Other Drug Interactions
The medicament may interact with ergot alkaloids, anti-histamines, alpha-adrenergic blockers, beta-adrenergic blockers, cardiac glycosides, L-dopa, TCA, thyroid hormones, general anaesthetic drugs,diuretics and guanethidine.
Dosing
For the medication of anaphylaxis as well as a bronchodilator (Adults): Apply 0.1 to 0.5 mg of 1:1000 mixtures as IM or SC. The dosages of the medicates can be retaken in every 10-15 minutes, in accordance with the requirement.
Give 0.15 mg of 1:2000 intermixture as IM injection.
For the treatment of chronic asthmatic attack (4 years and above): 160 – 250 mcg metered aerosol is equal to one inhalation. The dose can be repeated after one minute.
For fixture of cardiac beat in cardiac arrest patients (Adults): Give 0.5 to 1.0 mg of Adrenaline bitartrate as IV injectant. The dose can be repeated in every 3-5 minutes.
For chronic simple glaucoma (Adults): Infix one drop of Adrenaline bitartrate solvent in the affected eye(s), one time or twice every day. The dosage can be regulated or adjusted as per the necessity.
Adrenaline bitartrate and Pregnancy
USFDA pregnancy category C. May be or may not be pernicious to an unborn baby. Confer with the doctor if you are in gestation period or readying to have a baby during Adrenaline bitartrate management.
It is not well-known whether the medicate pass through the breast milk or not. Nursing female parent should obviate breastfeeding while taking this medicine.
Adrenaline bitartrate and Children
Adrenaline bitartrate should not be put 'in use' with children unless suggested by a pediatrician.